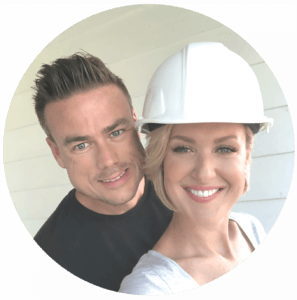 Craig Wilbrink has always been a serial entrepreneur. His interest in building and design began in the world of retail store design and store fixture manufacturing. At Burlington Merchandising & Fixtures, he helped create retail environments for clients large and small across Canada and the United States. Craig's wealth of business experience, along with his extensive knowledge of custom millwork, metal fabrication, and installation played a key role in assembling the company and team we know today as CW Design and Co.
Craig has worked alongside his wife, Carolyn, through many projects, but it was their own massive farmhouse renovation project that broke things wide open for the couple. Craig's business experience and innovated thinking matched with Carolyn's passion and creative talents have set them up as a serious driving force.
Carolyn grew up in small-town Ontario as a farmer's daughter, where she learned at a very young age that success came from putting in 100% effort 100% of the time. With her husband, Craig, they purchased their first home shortly after Carolyn graduated college, and it was then that she realized her true passion and talent: interior design. Her career path quickly shifted, and Carolyn found herself back at school to pursue a new dream. The rest is pretty much history. Carolyn has worked on everything from simple redesign to major construction renovation projects and custom builds. Like her clientele, her network of resources has only grown, and she now finds herself working with a team of incredibly talented individuals.
Carolyn has a passion for life and people of all kinds. Her keen eye for design may be the foundation for her career, but Carolyn's live-out-loud energy, her passion, and her drive are what make working with her so infectious. It's no surprise that as Carolyn documented her Burford Farmhouse Project on Instagram, her talent and energy was discovered by Sonar Entertainment out of Los Angeles, who expressed interest in bringing Carolyn and her team to television. This was the start of Farmhouse Facelift.
Q: I am looking to meet with Carolyn, Does she do the consultations?
Carolyn meets with all of our CW clients, however with her family schedule, HGTV Farmhouse Facelift Series and all other client projects, she is not always available immediately. You can contact our office to schedule your appointment and Carolyn will do her best to make time available.
Q: Where is CW Design & Co.?
Where do you think? In a Farmhouse! The Farmhouse Studio is located in Lynden, Ontario, a small town set just outside of Ancaster. We work by appointment only so please contact us by phone at (905) 464-0214 or send us an email at [email protected]
Q: How much will it cost for a consultation?
We charge an hourly rate for design time; however, all consultations are quoted out before get we started. We find this makes it very comfortable with no surprises on what our services may cost. If you need more time, we can top up your hours as required.
Q: What can I expect to receive from the consultation?
Every client is different. You may have a home you love, and you're looking for our team to come in and work our magic. Perhaps you've got a more significant project in mind, and you decided its time for an addition?  Not a problem as we start each client off with an exploratory call to asses what it is you need from us. Once we have a solid understanding of the scope of work, we can price your package accordingly. On any consultation, you will receive lots of great advice and ideas for your space. In many cases the designer can give you simple sketches, discuss ball-park pricing, help prioritize work and give you a plan of action.  Every consultation receives a design package outlining all of the suggested ideas, design concepts, finishes, furniture selections and drawings if required.